Fund your car, truck, motorcycle, boat, RV or ATV purchase.
Whether you're buying new or used, you can finance your next vehicle through Honda FCU. Or if you're unhappy with your current loan, we offer competitive refinancing terms as well. Learn more about vehicle loans.
Frequently asked vehicle questions
Get on-the-spot vehicle financing at participating local dealers in Alabama, Ohio and Indiana. DealerNet is a growing network of dealers providing Honda FCU financing. Apply for the loan and sign the documents right at the dealership.
Here's how it works:
Choose your new or used car, motorcycle, ATV, RV or boat at one of our DealerNet dealers.
Mention that you are a Honda FCU member.
If you were pre-approved, submit your pre-approval letter. If not, apply for a loan at the dealership.
Sign the loan documents at the dealership after your application is approved.
Drive away with your vehicle!
List of dealernet Dealers
All links, mentions, or references to other companies is solely for informational purposes to our members, and should not be construed as an endorsement or relationship other than what is plainly stated where such connection is made.
Attention high school and college graduates! Get the wheels that meet your needs with the Honda FCU Graduate Auto Loan Program. It's also a great way to establish good credit. This special program not only comes with an Auto Loan, but also a Credit Card and Checking Account.
Features:
0.25% discount on the loan rate.
Automatic approval for a Visa Classic Credit Card.
A Checking Account with a free $50 bonus.*
GAP Plus is like an air bag for your vehicle loan. This Guaranteed Asset Protection (GAP) program can help cushion you against sudden out-of-pocket expenses in the event of your new vehicle being totaled in an accident. Ordinarily, there would be a gap between what your vehicle insurance would pay and what you would owe on your loan. GAP Plus reduces or eliminates this coverage gap, helping you worry a little less about tomorrow.
How it works: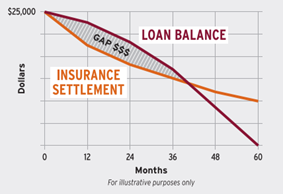 The second you drive your new vehicle off the lot, it drops in value. More than 20% of the value is lost in one year.† So if your car is totaled or stolen in the early months of paying off your loan, you could be left making loan payments on a car you don't have.
For more information and to sign up for GAP Plus, call 1-800-634-6632
*APR = Annual percentage rate. Rates may vary.
$50 checking account deposit requires automatic payment for the auto loan from your Honda Federal Credit Union checking account. On approved credit. Employment verification and minimum income required. Co-signer may be required. Other restrictions may apply.
† Source: Carfax.